Stone Walls, also called Stone Veneers, are beautiful structures that a stone contractor can use to enhance the look of a house or a patio.
They can be built with thick or thin natural stone or artificial stone veneer. This, together with the several colors and designs available, gives you almost infinite possibilities when choosing a design for your house.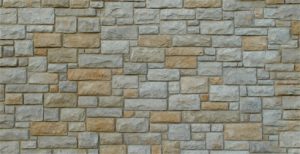 Thin natural stone is usually installed the same way as artificial stone as they are both about 1.5″ thick. They are perfect to cover existing walls (such as brick, concrete or wood).
The stone veneer is installed right against the wall with a layer of waterproofing and a steel lath reinforcement. Then, depending on the stone type, we can install them with a mortar joint, or mortarless for a more natural look.
Thick stone veneer, which is also called building stone, is about 4″ thick. This makes the installation a little more difficult for the stone contractor since the extra weight will require a proper footer to support the finished stone wall.
These stone veneers are perfect for outside walls and look nicer than the thin veneers, but they are more expensive to install.